Exhibit Guide Home
Exhibits
Introduction
Founding Generation
Founding Documents
You Be the Judge
Defining Freedom
The Struggle Continues
Faces of Freedom
Marketplace of Ideas
Censorship: What Is It?
Musical Hit List
Draw the Line
Resources
Museum Map
Glossary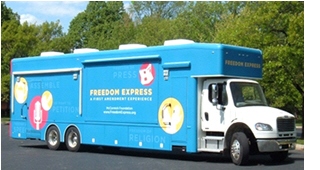 The Freedom Express is a 45-foot traveling museum that offers visitors an opportunity to explore their First Amendment freedoms of religion, speech, press, assembly, and petition. Interactive exhibits and thought-provoking artifacts illustrate how the First Amendment enables a healthy democracy, where we can freely exchange ideas, consider multiple perspectives, and act on issues that matter to us.




This exhibit guide is designed for both educators and students. It features in-depth information about each of the exhibits onboard the Freedom Express, along with links to related resources.

For educators and students who are not able to visit the Freedom Express, the exhibit guide can serve as a resource to supplement a wide array of social studies units.
Start Exploring >>
Onboard the
Freedom Express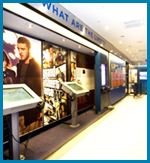 The Freedom Express features 400 square feet of exhibit space. In this guide, you'll find images and descriptions of each exhibit onboard the museum.