In This Issue:

Calendar of Events
Sunday, May 29
Freedom Express at Brookfield Zoo
Monday, June 20 - Thursday, June 23
Teaching with Controversy
Register now!
Monday, July 4
Freedom Express at Cantigny Park
Monday, July 18 - Friday, July 22
First Amendment Summer Institute
New Date - Register now!
Tuesday, July 26
CRFC Supreme Court 101
Wednesday, July 27 - Thursday, July 28
CRFC Supreme Court Update
Saturday, October 1
Save the date!
McCormick Foundation Civics Program Teacher Resource Fair

Top 10 Freedom in the News Headlines

Stay in Touch

Follow us on Twitter!


Join us on Facebook!

Subscribe to Freedom in the News
May Welcome

HAPPY TEACHER APPRECIATION WEEK!!
The McCormick Foundation Civics Program welcomes May, and the inevitably warmer weather it brings. With just a month or so left of school, I imagine you are also welcoming May! This month, the school programs team will be busy as they finish the last full month of Freedom Express visits for the school year. Our professional development team will also be preparing for two summer programs - Teaching with Controversy, and the First Amendment Summer Institute. Registration is still open for both so secure your spot today!

In this issue of FreeSource, we have an update from the Illinois Civic Mission Coalition's Annual Convening in March. The Illinois Civic Mission Coalition (ICMC) is a broad non-partisan consortium including educators, administrators, students, universities, funders, elected officials, policymakers and representatives from the private and non-profit sectors. The McCormick Foundation serves as the convener for this organization.
This month, we will also feature the organization who formed the Illinois Civic Mission Coalition, the Constitutional Rights Foundation Chicago (CRFC). The CRFC has been a long-time partner and grantee of the McCormick Foundation and we are excited to shine the spotlight on them this month!

I hope you enjoy your last full month of class and we look forward to seeing you this summer!

Sincerely,

Janice Belzowski
Professional Development Coordinator

Spotlight:
Constitutional Rights Foundation Chicago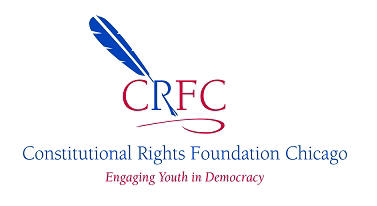 Each month we will highlight a McCormick Foundation grantee doing work in the realm of civic education, a McCormick Foundation employee, a teacher or a member of the Illinois Civic Mission Coalition in order to better acquaint our audience with who we are and what we are about.
Organization: Constitutional Rights Foundation Chicago
Established: CRFC was founded in 1974 as part of the Constitutional Rights Foundation in Los Angeles and became an independent 501(c)(3) organization in 1990.
Mission: The Constitutional Rights Foundation Chicago (CRFC) works with elementary and secondary schools to develop critical thinking skills, civic participation, and commitment to the rule of law among young people. Nonprofit and nonpartisan, CRFC is a national leader in the design and implementation of quality law-related education (LRE) programs for local, national, and international projects.
Grantee since: 2001 (Supporting the Illinois Youth Summit 8 times since 2001)

For almost four decades, Constitutional Rights Foundation Chicago (CRFC) has been a pillar of the civic education community, at home in Chicago as well as nationally and internationally. Working with partners from all across the globe, they continue to provide programs and resources that seek to educate, inform and engage teachers and students about democracy, the law and public policy issues. Their work has further advanced the civic mission of schools which makes it no surprise that they served as the original conveners of the Illinois Civic Mission Coalition.

In 2011, CRFC hosted its 17th annual Illinois Youth Summit in which nearly 1,000 Illinois students participated. This program promotes student voice and civic action around public policy issues that affect youth. This year, students considered issues around enacting an Illinois Responsible Bystander law, legalized gambling in Illionois to fund education and requiring all U.S. citizens to carry a national identity card. This program is an exemplar in the fifth promising approach of the Civic Blueprint - Authentic Opportunities for Student-Leadership and Decision-making.

In addition to providing student-led programs, CRFC also offers a variety of professional development opportunities for area teachers. Their summer programs focus on a variety of topics - the U.S. Constitution test, Mock Trial and the U.S. Supreme Court. In the Fall, they host a Law-Related Education conference which provides sessions that address current, legal and political issues, interactive teaching methods and innovative materials for the classroom. They also direct Deliberating in a Democracy in the Americas, an international initiative designed to promote the teaching and learning of democractic principles and the skills of civic deliberation among a new generation in the United States and in Latin America.

Constitutional Rights Foundation Chicago provides programs and resources necessary to advancing the importance of youth civic education and civic engagement. They are and will continue to be a leader in this area. Please visit their website for more information on their programs and resources.

Illinois Civic Mission Coalition Update

By Shawn Healy, Resident Scholar and Professional Development Director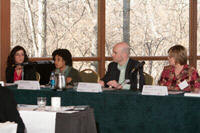 At the McCormick Foundation's first annual convening of the Illinois Civic Mission Coalition (ICMC), held March 10-11 at the Hyatt Lodge on the McDonald's Campus in Oak Brook, Il., educators, representatives of civic education organizations, local officials, and citizen advocates recognized the steep challenges they face in increasing the quality and quantity of civic education and engagement opportunities in Illinois schools. The annual convening of the ICMC is premised upon members sharing best practices, showcasing the latest research in the field, pursuit of alignment by member organizations, and the coordination of advocacy efforts among members.
In his opening remarks at the convening, Ted McConnell, executive director of the Campaign for the Civic Mission of Schools (CMS), spoke out against the "marooning" of civic education in school curricula, the lip service states and school districts devote to its importance, and the excessive attention schools pay to math and reading scores in seeking to develop workers first and citizens second. But in the face of these troublesome trends, McConnell expressed optimism in addressing an intensifying national effort to restore the importance of civic education and upgrade the assessment of civic education programs. There will be significant alterations in No Child Left Behind and the rules that govern it. And lobbying efforts are being made to increase the frequency of the National Assessment of Education Progress (NAEP), which measures civic education only every four years – an improvement from its previous policy of offering assessments every eight years. Additionally, the CMS is pushing for an expanded pool of federal funding for civic education through a competitive grants program administered by the Department of Education.
Two years ago, the Illinois Civic Mission Coalition, in partnership with the McCormick Foundation Civics Program, devised a civic blueprint for Democracy School certification that was endorsed by the State Board of Education. There still remains, however, a pressing need for a national baseline for assessing the quality of civic education, particularly at a time when most schools don't give it the same focus they do to courses preparing students for college and career.
Carolyn Pereira, National Liaison of the Illinois Civic Mission Coalition, updated attendees on the fledgling efforts to create common state standards for the social studies. The Council of Chief State School Officers have teamed with representatives of social studies organizations, including select members of the ICMC, to craft common state social studies standards for release in 2012. To date, the group has agreed upon the definition and purpose of social studies. Standards and related assessments will follow, with writers assigned for each of four disciplines: history, geography, economics, and civics. Upon release, participating states will adopt the new standards and contextualize them in schools. The group will also push for quality teacher professional development across disciplines, focusing on content, active learning, and collective participation.
Illinois Civic Mission Coalition Chair Shawn Healy, the McCormick Foundation Civics Program's resident scholar and director of professional development, moderated a panel discussion that considered the 2010 Illinoisand Chicago Civic Health Indices, along with a statewide civic audit of Illinois high schools, released for the first time at the convening. The panel was composed of two members of the Citizen Advocacy Center staff, Executive Director Terry Pastika and Community Lawyer Maryam Judar, along with University of Chicago student Patrick Ip. Please click here to continue reading the update.