April 24, 2012

Five Freedoms
Speech
Army cancels Ted Nugent's performance at Fort Knox over Obama comments Commanders at Fort Knox have decided against allowing the "Motor City Madman" to take the stage at the base in June, the latest fallout over Nugent's comments that he would be "dead or in jail" if President Barack Obama were re-elected.(CNN)
Ariz. bill drops 'annoying' online as an offense A provision in an Arizona bill that riled Twitter and Facebook users because it would have made it criminal to annoy or offend someone online has been dropped.(AP)
Tarek Mehanna, homegrown terrorist from Boston area who promoted Al Qaeda on Internet, sentenced to 17 1/2 years Tarek Mehanna, a young Boston-area man who traveled to Yemen in search of terror training in 2004 and later used the Internet to spread Al Qaeda's message, was sentenced today in federal court to 17 1/2 years in prison, after delivering a defiant speech proclaiming his love of Islam and his anger at the United States.(BG)
Op-ed: Tarek Mehanna case puts First Amendment on trial Most Americans do not think the Mehanna verdict will ever infringe on their free speech rights, just as they do not think they will ever end up naked and humiliated because of a recent US Supreme Court decision allowing strip searches for those arrested for even the most minor offenses (BG).
Op-ed: Tarek Mehanna's conviction for expressing his beliefs only helps Al Qaeda Tarek Mehanna, an American-born Bostonian, took his First Amendment rights quite seriously when he vocally condemned his government for killing thousands of Muslims abroad. As a result, he was convicted of conspiring to help Al Qaeda.(CSM)

Cop who opposed arrest quotas loses First Amendment claim A New York City police officer who alleged that superiors retaliated against after he complained about a system of quotas for arrests has no valid First Amendment claim, a federal district judge has ruled.(FAC)
Colleges could be banned from using taxpayer money for ads U.S. colleges would be barred from spending federal taxpayer money on advertising, marketing and recruiting under a Senate bill targeting for-profit institutions.(Bloomberg News)
Should teachers and students be Facebook friends? School districts across the country, including the nation's largest, are weighing that question as they seek to balance the risks of inappropriate contact with the academic benefits of social networking.(AP)
Albion inmate wins First Amendment complaint against state prison When a state prison inmate creates a piece of politically charged artwork, is it free speech or dangerous contraband subject to confiscation? (Erie Times-News)
Catholic League threatens Jon Stewart with boycott over 'vagina manger' joke on 'Daily Show' A "Daily Show" segment that criticized Fox News for ignoring the GOP's "war on women" while highlighting the left's "war on Christmas" has drawn the ire of the Catholic League.(Yahoo News)

Vatican crackdown: U.S. nuns chastised for questioning church The Vatican has ordered an overhaul of the most important group of nuns in the United States after an investigation found what Roman Catholic Church officials called "radical feminist themes" that questioned official positions on homosexuality and the ordination of women. (CT)
Law that makes it a crime to lie about military honors could be overturned The act, passed by Congress and signed into law by President George W. Bush in 2006, makes it a federal misdemeanor to falsely represent oneself, in writing or speaking, as having received a military decoration. The punishment includes a fine and up to a year in prison. (Fort Worth Star-Telegram)
Author faces civil suit over 'Three Cups of Tea' Regardless of whether claims are true that author Greg Mortenson fabricated portions of "Three Cups of Tea," neither he nor his publisher can be held liable because the First Amendment protects exaggerations or lies in memoirs, his publisher's attorney said Wednesday.(AP)
CIA whistleblower can't keep book proceeds A federal judge has ruled a CIA whistleblower will have to forfeit any future money he earns from a scathing book he wrote about the spy agency after he failed to get approval from his former employer before publication.(AP)
Judge cites First Amendment, drops NY charges against jury nullification proponent A federal judge threw out charges Thursday against a man who urged jurors in multiple East Coast cities from Florida to New Hampshire to sometimes disregard the law and vote their conscience.(AP)
Ala. prohibits Dirty Bastard beer The state alcoholic beverage control agency said April 19 that it had banned the sale of that brand of beer in the state because of the profanity on its label.(AP)
6th Circuit rejects teacher's 'libel by pantomime' claim A federal appeals court has rejected the First Amendment claims of a former Kentucky public school teacher who alleged that a principal violated her rights by denying her request for a representative at a meeting. She also had alleged that the principal and assistant principal committed "libel by pantomime" by escorting her out of the building.(FAC)
Ga. governor signs open-records overhaul Gov. Nathan Deal yesterday signed into law a sweeping overhaul of the state's open-records rules, touting the measure as among several legislative successes from this year's General Assembly session.(AP)
Press
Panetta urged newspaper not to publish gruesome photos Defense Secretary Leon Panetta apologized yesterday for gruesome, newly revealed photographs that show U.S. soldiers posing with the bloodied remains of dead insurgents in Afghanistan. He said war can lead young troops to "foolish decisions" and expressed concern the photos could incite fresh violence against Americans.(AP)
Iowa paper devotes front page to fighting bullying In a rare and forceful act of advocacy, an Iowa newspaper devoted the entire front page of its Sunday edition to an anti-bullying editorial after a gay teen committed suicide.(AP)
Assembly
Protesters leave New Haven Green in defeat About a dozen Occupy New Haven demonstrators were arrested today as police cleared out the protesters after winning a court battle. The 2nd U.S. Circuit Court of Appeals in New York ruled in the city's favor yesterday, allowing the city to evict protesters, who have been at the site for six months. (AP)

Protesters Arrested in Sleep-Out and Demonstration Near Stock Exchange The police arrested four people near the New York Stock Exchange on Monday morning after telling Occupy Wall Street protesters, who have been gathering there for a week, that they were not permitted to sit or lie down on sidewalks. Several additional arrests followed in the evening, with the possibility of more to come.(NYT)
State reviewing rules on protests in public buildings Several lawmakers and local residents are calling on top state officials to repeal a policy that bans public protests in the tunnel connecting the State Capitol to the Herschler Building. (Wyoming Tribune)

Student Freedoms
Speech
Alpharetta student loses suit over ouster as school president At the bench trial of his lawsuit against the Fulton County schools, Alpharetta High's principal and two student advisers, senior Reuben Lack took the stand Monday to testify that he had been punished for speaking up for gay rights.(Atlanta Journal Constitution)
Assembly
Ousted Columbus High principal urges students not to protest Crumbs told students over the school intercom that he appreciated their support, but he was concerned about their safety should they proceed with the march. (Columbus Ledger-Enquirer)
Privacy rights
School wants to test all students for drugs Students as young as 11 years old would be tested for use of marijuana, pills, cocaine and heroin under a proposal by a North Port charter school that wants to institute the region's most aggressive student testing program.(Sarasota Herald Tribune)
Cops Take School Kids' DNA in Murder Case Samples of DNA were collected without parental consent from students at a Sacramento, Calif., middle school in connection with the murder of an 8 th grade student who was found stabbed, strangled and beaten to death near the dugout of a local park.(ABC News)

Crime and punishment
Paddling students still allowed in 19 states Some parents and educators say corporal punishment, used sparingly and appropriately, can be an effective discipline tool.(USA)
The Struggle Continues
Immigration
Class Challenges ICE Use of Ankle Bracelets In a federal class action, "noncitizen Americans" say the Dallas Field Office of Immigration Customs and Enforcement and a private "case management" contractor violate civil rights by putting ankle bracelet monitors on people in immigration proceedings. (Courthouse News)

AZ sheriff played probe for laughs An audio recording has surfaced of an Arizona sheriff playing his refusal to cooperate in a racial profiling investigation for laughs at a fundraiser for an anti-illegal immigration group in Texas.(AP)

Crime and punishment
NC judge dismisses potential jurors who say they've made up their minds about John Edwards A federal judge on Monday dismissed 47 potential jurors from the coming John Edwards trial, many because they said they couldn't fairly weigh evidence involving the former Democratic presidential candidate.(AP)
MA Prisons Settle Suit Over Care of Mentally Ill A federal judge approved a settlement that prohibits Massachusetts from placing inmates with serious mental illness in segregation, except in certain circumstances, and expands the mental health services available to them. (Courthouse News)

George Zimmerman makes bail, goes into hiding He probably won't be seen in public until he testifies at his trial next year, his lawyer, Mark O'Mara, told ABC News. O'Mara said he would waive Zimmerman's right to appear at his arraignment May 8 out of concern for his safety.(USA)

Disability rights
Deaf student sues, claiming Portland State University didn't allow her service dog in some housing A deaf student and the Fair Housing Council of Oregon are suing Portland State University for more than $1 million claiming that the university has repeatedly discriminated against students with disabilities. (The Oregonian)

Elections and voting
Federal court won't lift ban on political donations by contractors Federal contractors have been prohibited for more than 70 years from donating to candidates, political committees and parties in federal elections. In a lawsuit, three federal contractors allege that the ban violates freedom of speech. (AP)

Appeals court OKs Ariz. voter ID, voids proof of citizenship Arizona voters can be required to show identification before casting their ballots, but they don't have to prove U.S. citizenship to register, a federal appeals court ruled today, Reuters reports.(USA)
Gun rights
Fla. to look at self-defense laws after killing Florida's self-defense laws _ including a measure known as the ``stand your ground'' law _ will be examined over the next year by a task force put together by Gov. Rick Scott. (AP)

Rifle-toting teen learns a lesson on rights Combs, 18, a senior at Troy High School, told police he was allowed under the law to carry a rifle in public. When he refused to provide his name and age, he was taken into custody on multiple charges of brandishing a weapon, disorderly conduct and obstructing an officer.(HometownLive.com)
Pinole council bans home-based gun and ammo sales After more than an hour of often-passionate public comment, the council unanimously approved an ordinance that would ban the sale of firearms and ammunition as home-occupation businesses and restrict them to commercial areas.(Contra Costa Times)

Privacy rights
Drones Moving From War Zones To The Home Front What exactly are drones, how are they used — now and potentially — and do they threaten people's rights to free speech and privacy?(NPR)

Justice and the Courts
Supreme Court
Supreme Court Lets Rent Stabilization Law Stand Tenants in a million apartments subject to New York City's rent regulations could breathe a sigh of relief on Monday. The United States Supreme Court, after indicating it might be interested in hearing a challenge to the regulations, decided to let them stand.(NYT)
Op-ed: Cruel and unusual — a test case Before its June 26 recess, the Supreme Court will decide whether sentencing children to die in prison is cruel.(WP)
This Day in History
On April 24, 1800, President John Adams approves legislation to appropriate $5,000 to purchase "such books as may be necessary for the use of Congress," thus establishing the Library of Congress. The first books, ordered from London, arrived in 1801 and were stored in the U.S. Capitol, the library's first home. (History.com)

AP: Associated Press; BBC: British Broadcasting Corporation; BG: Boston Globe; BS: Baltimore Sun; BW: Business Week; CR: Chicago Reader; CSM: Christian Science Monitor; CST: Chicago Sun-Times; CT: Chicago Tribune; DH: Daily Herald; DMN: Dallas Morning DP: Denver Post; Drudge Report; EP: Editor & Publisher; FAC: First Amendment Center; HC: Houston Chronicle; HP: Huffington Post; IHT: International Herald Tribune; LAT: Los Angeles Times; MH: Miami Herald; MJS: Milwaukee Journal-Sentinel; NW: Newsweek; NYT: New York Times; PI: Philadelphia Inquirer; PEIJ: Project for Excellence in Journalism; RCP: Real Clear Politics; SC: San Francisco Chronicle; SJR: State Journal-Register; SLPD: St. Louis Post-Dispatch; SPI: Seattle Post-Intelligencer; SPLC: Student Press Law Center; SPT: St. Petersburg Times; ST: Seattle Times; TH: Townhall.com; UNWP: U.S. News and World Report; USA: USA Today; WP: Washington Post; WSJ: Wall Street Journal; WT: Washington Times.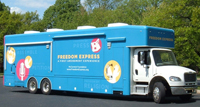 Bring the Freedom Express mobile museum to your school.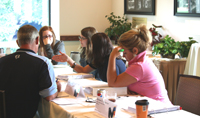 Learn about upcoming professional development opportunities for educators.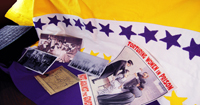 Reserve a Discovery Trunk, at no charge, for your classroom.