December 13, 2011

Five Freedoms
Speech
Los Angeles reconsiders mural ban on private property Ten years ago, the city banned some murals, but officials are considering altering that law to allow more murals in the city. (Sacramento Bee)
Ill. judge backs gun owners in permit-disclosure dispute An Illinois judge has ruled that the state police cannot release the names of the state's 1.3 million firearm-owner identification cardholders, another victory for gun-rights advocates who had been trying on several fronts to block release of the names. (AP)
Reconstituting The Constitution: How To Rewrite It? For several months, Phillips has been asking people to imagine themselves in the role of Constitutional framers. Would we change some things if we could? Or would we leave them the same? He asks people to look over something in the document and rewrite it as an exercise. (NPR)
Court to Review Decision in Funeral Protest Ban A federal appeals court agreed Wednesday to take another look at whether a St. Louis suburb can enforce a funeral protest ordinance drafted in response to the picketing of an anti-gay Kansas church — a move that could push the issue closer to the U.S. Supreme Court. (AP)
NYPD Facebook probe raises free speech question At least 20 such comments made on the page may have come from police officers, New York Police Department officials said. Internal affairs detectives are interviewing officers under oath and getting subpoenas for computer records. Departmental charges could be brought, Police Commissioner Raymond Kelly said. (MSNBC)

Op-ed: Overkill on Internet piracy In short, this is not a fight between protectors of copyrights and Internet anarchists. Rather, there is a legitimate policy dispute about how broad and how disruptive government enforcement powers should be when core First Amendment rights are at issue.(WP)
Questlove: NBC clearing Roots songs for Fallon NBC is now checking the songs the Roots play on "Late Night with Jimmy Fallon" after the band performed an off-color song during Michele Bachmann's show appearance last month. (AP)

For a fired Roosevelt adjunct, the joke isn't funny anymore He says it's a matter of academic freedom. And he's filed suit in federal court against both the university and its part-time faculty union, the Roosevelt Adjunct Faculty Organization. (Chicago Reader)

Ariz. court bars open-meetings probe of redistricting panel A judge ruled late last week that Arizona's redistricting commission is not bound by the state open-meetings law and that prosecutors must shut down an investigation of whether the commission complied with the law that generally requires public bodies to do their work in open view. (AP)
Governor opposes weakening Tenn. open-meetings law Gov. Bill Haslam said Dec. 8 that he opposed efforts to water down Tennessee's open-meetings law that prohibits city and county officials from deliberating about official business in private. (AP)
Controversial Texas license plates put Perry on the spot The approval of a specialty Texas vehicle license plate which says "One State Under God" and shows three crosses has again put Texas Governor Rick Perry on the spot in the Republican presidential race. (Reuters)
Texas Sons of Confederate Veterans sues over license plates A group that campaigned unsuccessfully for Texas to issue a specialty license plate featuring a Confederate flag is suing the state's Department of Motor Vehicles board in federal court. (LAT)
Court to decide if commenter's ID must be revealed A newspaper's ability to withhold the identity of an anonymous online commenter will be the subject of arguments before the Indiana Court of Appeals. (AP)

Dutch architects apologize for 9/11 blast look-alike design A Dutch architectural firm has apologized for its design of twin skyscrapers in central Seoul which resemble the exploding World Trade Center towers in New York and have infuriated families of the victims of the 9/11 attacks. (Reuters)
Mass. officials to disclose long-hidden Romney archives Massachusetts will make available to the public hundreds of boxes of documents from Republican presidential candidate Mitt Romney's term as governor that have long been locked away, the state said yesterday. The same agency that is opening the files said it would not pursue an inquiry into the purge of electronic records at the end of Romney's term. (AP)
Airport can limit where leaflets dispersed, judge rules A federal judge ruled in favor of the Fort Wayne-Allen County Airport Authority, finding that restrictions on where people can pass out literature in the airport do not violate the constitutional right to free speech. (Fort Wayne Journal-Gazette)
Press
Bloomberg: NYC didn't prevent Occupy news coverage Restrictions placed on journalists didn't prevent them from covering the clearing of the Occupy Wall Street encampment last month, Mayor Michael Bloomberg argued on Dec. 9, weeks after news organizations sent letters to the city complaining that police had blocked journalists from observing the operation. (AP)
News orgs in four states ban or limit journalists' participation in political party caucuses While media organizations in Iowa — home of the nation's first caucus — typically have enforced such policies for decades, the issue is relatively new in other states, such as Nevada, Minnesota, and Colorado, where caucuses have taken on added significance in recent elections. (Poynter)
Federal judge: Mont. blogger is not a journalist A federal judge in Oregon has ruled that a Montana woman sued for defamation was not a journalist when she posted online that an Oregon lawyer acted criminally during a bankruptcy case, a decision with implications for bloggers around the country. (AP)
Op-ed: When Truth Survives Free Speech She didn't so much report stories as use blogging, invective and search engine optimization to create an alternative reality. Journalists who initially came to her defense started to back away when they realized they weren't really in the same business. (NYT)
Religion
Atheists Who Go to Church: Doing It for the Children The study, by sociologists Elaine Howard Ecklund of Rice and Kristen Schultz Lee of the University at Buffalo, found that many atheists want their children exposed to religion so that they can make up their own minds on what to believe.(ABC)
First amendment vs. Christmas in Loudoun County A shocking Christmas-time display was seen in front of the Leesburg courthouse Monday: It showed a crucified skeleton in a Santa costume.A couple hours later, that display was knocked down. (WJLA)
Christmas carolers crash R.I. tree-lighting in protest Carolers singing "O Christmas Tree" crashed Rhode Island's Statehouse tree lighting yesterday after Gov. Lincoln Chafee unwrapped a holiday hubbub by calling the 17-foot spruce a "holiday" tree. (AP)
Op-ed: Americans: Undecided About God? For a nation of talkers and self-confessors, we are terrible when it comes to talking about God. The discourse has been co-opted by the True Believers, on one hand, and Angry Atheists on the other. What about the rest of us? (NYT)

Op-ed: Non-Existent 'War On Christmas' Is Apparently Being Won By The People Who Invented It Meanwhile, the continuing use of the term "war on Christmas" to describe the reaction of people who do not receive full validation of their religious beliefs from cashiers 100 percent of the time is still a grievous insult to people around the world who are legitimately persecuted for expressing their religious faith, and who look to the way religious freedom is accommodated in America with envy. (HP)
Lowe's pulls ads from Muslim show, prompting backlash The retail giant stopped advertising on TLC's "All-American Muslim" after a conservative group known as the Florida Family Association complained, saying the program was "propaganda that riskily hides the Islamic agenda's clear and present danger to American liberties and traditional values." (AP)
Shelters at churches spark religious freedom challenge An attorney with a civil liberties advocacy group says the city's interpretation of its zoning laws might be violating churches' rights to freely exercise their religious beliefs under the First Amendment. Meanwhile, city officials say the municipal zoning code was recently updated to address homeless shelters and was devised with state and federal laws in mind. (News-Leader)

Assembly
Goldman Sachs Moneybags Top Target of Occupy Protests at West Coast Ports Occupy Wall Street protests spread to U.S. West Coast ports as demonstrators tried to halt shipping operations and cut into profits at Goldman Sachs Group Inc. (GS), which owns a stake in the largest cargo-terminal operator. (Bloomberg)
Brookfield Deals With Protesters Again, but Not at Zuccotti At least 17 Occupy Wall Street protesters were arrested on Monday at the World Financial Center, whose owner, Brookfield Properties, also owns Zuccotti Park, the public space where the protesters maintained an encampment for two months before being cleared by the police in mid-November. (NYT)

Occupy NOLA's chances for final court victory are slim, some legal experts say The Occupy NOLA movement celebrated a surprising short-term victory last week after a federal judge last week allowed protesters to return to Duncan Plaza and camp round the clock for seven more days. But some say the movement's chances for a long-term legal victory are slim. (New Orleans Times Picayune)
Police remove belongings of Occupy Orlando protesters, arrest 5 Handcuffed behind her back, Elena Rosa screamed "First Amendment! First Amendment! First Amendment!" as Orlando police officers pulled her away from Senator Beth Johnson Park. (Orlando Sentinel)

Student Freedoms
Speech
Miss. students must wear caps, gowns after yearbook flap A Mississippi school district will require all students to wear caps and gowns in senior portraits after a lesbian student was left out of the yearbook for wearing a tuxedo. (AP)
Skinny Jeans: Too Suggestive for Mormon College? Some at Brigham Young University-Idaho, a Mormon school, say skinny jeans are too risqué for campus wear: students wearing the hip-hugging pants have recently been refused service at the school's Test Center. (ABC)

Press
Ohio high school paper's homosexuality coverage may lead to prior review Administrators are considering prior review of a northern Ohio high school newspaper after it caused a stir earlier this week by publishing an article exploring student views on homosexuality. (SPLC)

Religion
Sumner schools to stop religious activities The Sumner County Board of Education settled a lawsuit with the American Civil Liberties Union over teacher-led prayer and other religious activity in public schools. (The Tennessean)

The Struggle Continues
Immigration
Change undocumented student ban, UGA faculty group says A group that represents the University of Georgia faculty called on the state Board of Regents on Thursday to end a policy barring undocumented students from UGA and four other Georgia public universities. (Athens Banner Herald)

Slavery
Piece of history rescued from time In the moments after a hand-printed copy of the congressional resolution approving a 13th Amendment to the U.S. Constitution signed by Abraham Lincoln arrived at a South Loop graphic conservation firm, six staff members stood in silence, staring at the historic document. (CT)

Crime and punishment
Arkansas says death row inmate deserves a new trial because jurors tweeted, slept on the job The Arkansas Supreme Court on Thursday tossed out a death row inmate's murder conviction and said he deserves a new trial because one juror slept and another tweeted during court proceedings. (AP)
Elections and voting
Texas Elections Are in Limbo Over Redistricting Issue The Supreme Court's decision late Friday to hear arguments on the issue on Jan. 9 has turned the boundaries of Congressional and State Legislature districts — the basic blueprints of Texas politics — into a great unknown. Until the justices determine the legality of the two dueling sets of maps, much of the political machinery for both Democrats and Republicans has been thrown into limbo. (NYT)
Elections officials grapple with Native American language rule Under the Voting Rights Act, assistance can be required in jurisdictions where a minority with poor English skills makes up 5 percent of the voting-age population and has literacy levels below the national average. But in Arizona, Yuma County officials said they have never received call for assistance in the language, although they claim they are ready if anyone asks (Tucson Sentinel)

Gay rights
Gay marriage proponent who urged halt to Prop. 8 enforcement dies With his partner, Ed Watson had sought the ability to marry before advancing illness claimed his life. His death came on the eve of a court hearing on the same-sex marriage ban. (LAT)
U.S. to Aid Gay Rights Abroad, Obama and Clinton Say In a memorandum issued by President Obama in Washington and in a speech by Secretary of State Hillary Rodham Clinton here, the administration vowed to actively combat efforts by other nations that criminalize homosexual conduct, abuse gay men, lesbians, bisexuals or transgendered people, or ignore abuse against them. (NYT)

N.J.'s black churches open doors to gay congregants, but not right to marry A random sampling of black ministers in the Newark area found many are aware of lesbians, gays, bisexuals and transgendered men and women in their congregations, singing in the choir or working in a church office. And they are willing to welcome them with open arms.(New Jersey Star-Ledger)
Gun rights
Florida Bans Gun Controls; County Sues Governor The Palm Beach County Commission sued Gov. Rick Scott and the Legislature, fighting a new law that allows the governor to remove from office any local officials who enact gun control ordinances. (Courthouse News Service)

Documents: ATF used "Fast and Furious" to make the case for gun regulations In Fast and Furious, ATF secretly encouraged gun dealers to sell to suspected traffickers for Mexican drug cartels to go after the "big fish." But ATF whistleblowers told CBS News and Congress it was a dangerous practice called "gunwalking," and it put thousands of weapons on the street. Many were used in violent crimes in Mexico. Two were found at the murder scene of a U.S. Border Patrol agent. (CBS)
Op-ed: Ex-gun show operator trains sights on 'loophole' The sixth-generation Tennessean is a Newt Gingrich-supporting Second Amendment advocate who ran gun shows for 25 years. But he said his buddies in the Tennessee Firearms Association are irritated by his one-man campaign to close the so-called "gun show loophole," which he claims allows murderers and thieves to buy stolen guns. (The Tennessean)

Homeland Security
Police employ Predator drone spy planes on home front The drones belong to U.S. Customs and Border Protection, which operates eight Predators on the country's northern and southwestern borders to search for illegal immigrants and smugglers. The previously unreported use of its drones to assist local, state and federal law enforcement has occurred without any public acknowledgment or debate. (LAT)
Privacy rights
Op-ed: America shouldn't be a surveillance society Should every customer who walks into a drugstore where cough medicine can be used to get high also be worried that a secret police camera is recording the visit for further scrutiny? It's a recipe for driving small businesses bankrupt, and for making local residents feel constantly under watch — an anathema in a free society. (St. Petersburg Times)
Property rights
Latest NH bill no threat to Northern Pass project A New Hampshire Senate committee on Thursday recommended a bill that would add some protection for property owners who could lose their land through eminent domain, but the legislation stopped short of language that could hamper the Northern Pass hydroelectric power project. (AP)

Smoking rights
Ban on tourists visiting Dutch cannabis cafes will go ahead The policy aims to cut down nocturnal disturbances and the number of drug pushers said to cater to the millions of foreign tourists who visit the Netherlands to take advantage of its relaxed marijuana laws.(Daily Mail)

Justice and the Courts
Supreme Court
High court to look at state immigration laws The justices said they will review a federal appeals court ruling that blocked several tough provisions in the Arizona law. One of those requires that police, while enforcing other laws, question a person's immigration status if officers suspect he is in the country illegally. (AP)
This Day in History
On December 13, 1918 after nine days at sea aboard the SS George Washington, Woodrow Wilson arrives at Brest, France, and travels by land to Versailles. There, he headed the American delegation to the peace conference seeking a definitive end to World War I. The visit marked the first official visit by a U.S. president to Europe.(History.com)

AP: Associated Press; BBC: British Broadcasting Corporation; BG: Boston Globe; BS: Baltimore Sun; BW: Business Week; CR: Chicago Reader; CSM: Christian Science Monitor; CST: Chicago Sun-Times; CT: Chicago Tribune; DH: Daily Herald; DMN: Dallas Morning DP: Denver Post; Drudge Report; EP: Editor & Publisher; FAC: First Amendment Center; HC: Houston Chronicle; HP: Huffington Post; IHT: International Herald Tribune; LAT: Los Angeles Times; MH: Miami Herald; MJS: Milwaukee Journal-Sentinel; NW: Newsweek; NYT: New York Times; PI: Philadelphia Inquirer; PEIJ: Project for Excellence in Journalism; RCP: Real Clear Politics; SC: San Francisco Chronicle; SJR: State Journal-Register; SLPD: St. Louis Post-Dispatch; SPI: Seattle Post-Intelligencer; SPLC: Student Press Law Center; SPT: St. Petersburg Times; ST: Seattle Times; TH: Townhall.com; UNWP: U.S. News and World Report; USA: USA Today; WP: Washington Post; WSJ: Wall Street Journal; WT: Washington Times.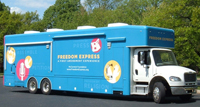 Bring the Freedom Express mobile museum to your school.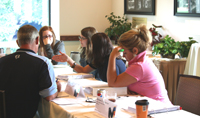 Learn about upcoming professional development opportunities for educators.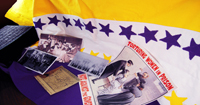 Reserve a Discovery Trunk, at no charge, for your classroom.